This section shows the project activities in dissemination through peer-reviewed publications and in public engagement through press and events.
Further information can be found within the social media pages of TEEP-SLA.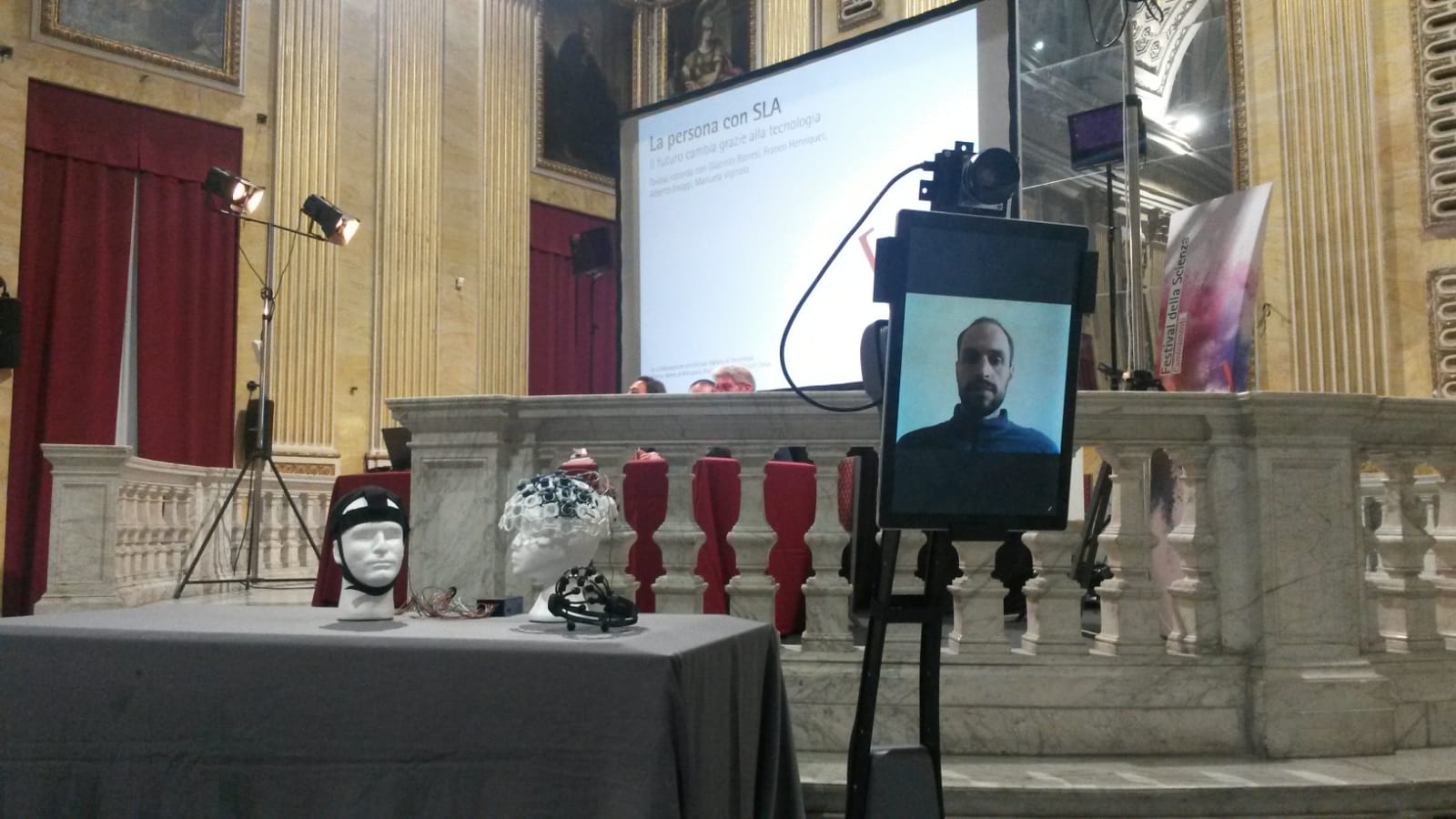 Il laboratorio di Biomedical Robotics, ADVR, presso l'Istituto Italiano di Tecnologia (IIT) è alla ricerca di circa 20 soggetti adulti che vogliano prendere parte ad una campagna sperimentale che verrà svolta a partire da martedì 18 Aprile 2017, fino a circa fine di Maggio. Lo studio, approvato dal Comitato Etico della Regione Liguria, ha come scopo quello di riconoscere diversi stati mentali da registrazioni elettroencefalografiche (EEG), con l'obiettivo di sviluppare interfacce cervello-computer (Brain-Computer interfaces BCIs) che permettano la comunicazione a pazienti con Sclerosi Laterale Amiotrofica (SLA).
L'esperimento si svolgerà presso il Biomedical Robotics lab (4° piano), Istituto Italiano di Tecnologia, via Morego 30, Genova, e farà uso di:
un sistema di acquisizione EEG con elettrodi a gel, disposti su tutto lo scalpo;

bracciali vibranti posizionati su polsi e/o caviglie per trasmettere un feedback tattile.
L'esperimento si svolgerà in due sessioni di un'ora (in due giorni differenti, a seconda della preferenza del soggetto). Ai partecipanti sarà richiesto di immaginare movimenti degli arti superiori e inferiori, ricevendo o meno un feedback tattile, a seconda di opportuni stimoli visivi presentati sullo schermo di un PC.
L'esperimento è semplice e sicuro. Al termine dell'acquisizione verrà fornito tutto il necessario per rimuovere il gel per gli elettrodi (compreso materiale per lavare e asciugare i capelli).
Se avete piacere di partecipare, scriveteci a:
This email address is being protected from spambots. You need JavaScript enabled to view it., This email address is being protected from spambots. You need JavaScript enabled to view it.: saremo felici di fornirvi tutte le informazioni di cui avete bisogno.
Grazie!